Skip to Content
The Critical Final Year
One of the most significant advantages to Montessori education is the focus on an individual child's progress, both academically and emotionally. Added to this is the stability of having the same teacher for more than one year in the multi-age setting. By this final kindergarten year, a teacher really knows your child's strengths, and the areas that need work, and so can tailor classroom work to reflect the daily needs of your child. The work begins on Day One, with no lost transition time each year.
Learning to Be a True Learner
In this final year, the MVMS child will "get it"! That is, they will begin to truly understand those concepts and skills they were exposed to when they were younger. Their knowledge will become intrinsic and they will delight in sharing it with other children. On a broader scale, the independence of previous years leads to a responsibility for their own learning, and their status moves up to the leader of the class. Your children will become proud of their achievements and abilities, and respond happily to the increase in expectations that their teachers place on them.
Relevant Curriculum
In the Montessori environment, kindergarten children are given endless opportunities to enhance their skills and interests by working with Montessori-developed learning materials and receiving more advanced lessons as they become ready. In addition, we present assigned coursework that introduces the concept of more directed learning, typical of conventional kindergarten programs but still retains the option to "follow the child" as they develop their own project ideas and research. Click for more on curriculum.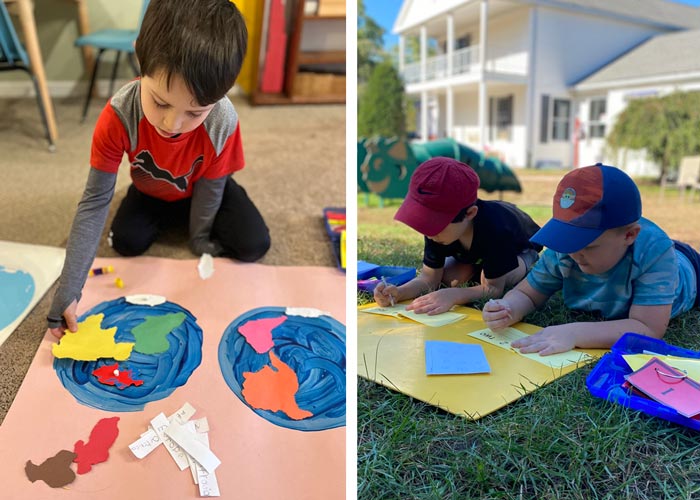 Your Kindergartner's Day at MVMS
Kindergarten at MVMS combines the best of multiage practice each morning, with sessions in a more conventional setting in the afternoons for kindergarten children only. Our kindergarten students spend each morning in their multiage classroom, with individualized lessons, and time to practice and refine their skills in the wide variety of curriculum areas that our classrooms provide.
Lunchtime in the middle of the day showcases their real-life and grace and courtesy skills, as they set tables with tablecloths, dinnerware, napkins, and flowers, eat together politely, and then clear away again at the end. Their afternoon sessions are with a kindergarten-only group and a more teacher-driven curriculum. The experience of a single-age classroom and the teacher-driven environment is important, as most of our students graduate from MVMS to a conventional elementary program.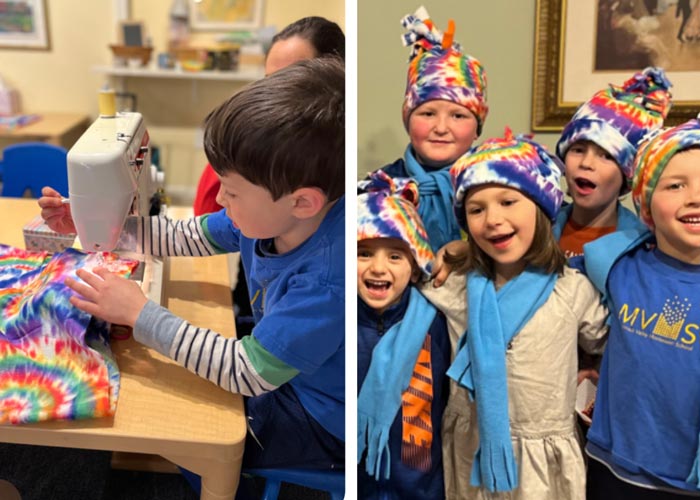 Kindergarten on Monday and Friday Afternoons
On Monday and Friday afternoons, the children participate in exciting and challenging projects in a kindergarten-only classroom. Specifically incorporated in all these lessons are math, reading, writing, and advanced motor skills. The themed curricula include scientific exploration from the mysteries of the universe to the wonders of electricity; and creative art exploration from Michelangelo to Picasso. Our hands-on cooking lessons culminate with our kindergarteners topping off their skills preparing a Thanksgiving Feast and a Special Guest Invitational Tea.
And the final event of the year is our graduation and play which incorporates memorization, songs, and dance routines. This gives the children the opportunity to show the self-confidence and independence they have garnered throughout their three years at MVMS.
Kindergarten on Tuesday, Wednesday and Thursday Afternoons
The three-afternoon sessions on Tuesdays, Wednesdays and Thursdays are in a Montessori classroom with only our kindergarten children in the room. This gives us increased flexibility to present math, language, social studies, science, and geography studies at a kindergarten and above level, but still, access individual children one-on-one. Teachers can spend extra time with each child, and help them generate and explore new curriculum areas and projects as they arise.
The end result is a well-balanced, enthusiastic, independent, and self-assured learner, who is ready and eager to tackle new challenges.
Find Out More About Montessori